Tommy Kallon, President of the PAAMA, UK
We are immensely grateful for this privilege as it will enable us to hold not only our annual Global PAAMA Forum, but also host a number of programmes and activities aimed at furthering the noble aims and objectives for which PAAMA was founded.
Particularly, the marquee will afford us the space to put up an Africa-centric exhibition that will showcase, inter alia, the history of Islam and Islamic Empires in Africa, the visit of Khulafa-e-Ahmadiyyat to Africa, Quranic translations and other literature in various African languages, the expansion of PAAMA into now eight chapters worldwide, and, of course, the memory, legacy and sacrifices of the martyrs of Burkina Faso.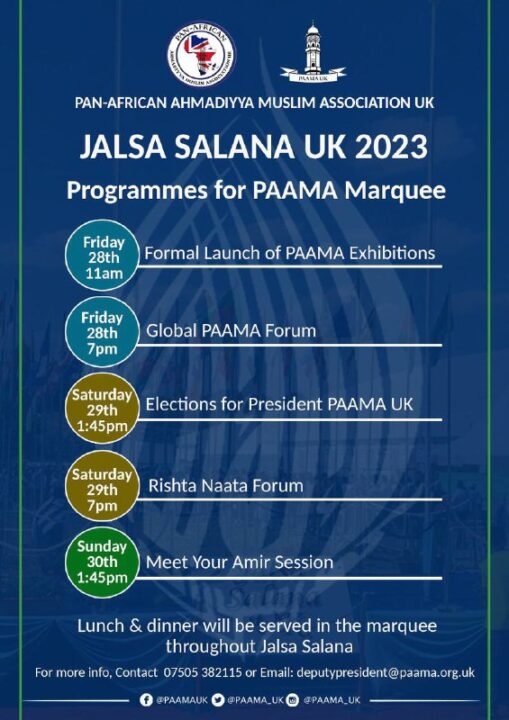 The marquee serves as an amazing opportunity to take the Global PAAMA Forum to new heights. This is where Amirs and delegates from Africa and the Caribbean, and also PAAMA members from across North America, Europe and the UK come together and discuss ways in which the vision and mandate of PAAMA can be fulfilled. Now, by the grace of Allah, this can be held in our very own PAAMA marquee.
At Jalsa Salana, PAAMA traditionally plays the role of host to the delegates from Africa, the Caribbean and the global PAAMA family, as well as non-Ahmadi delegates and guests to Jalsa Salana.
PAAMA has had an intensely busy year with the reactivation of all our flagship and in-person events since the end of the Covid-19 pandemic. Even throughout the pandemic, a plethora of virtual online events were held to keep the association engaged. Some of the major highlights of the year include a global Rishta Nata forum which was held virtually, the inauguration of PAAMA Netherlands, a PAAMA France residential weekend event, and a hugely successful Africa Day celebration event by our PAAMA UK Lajna.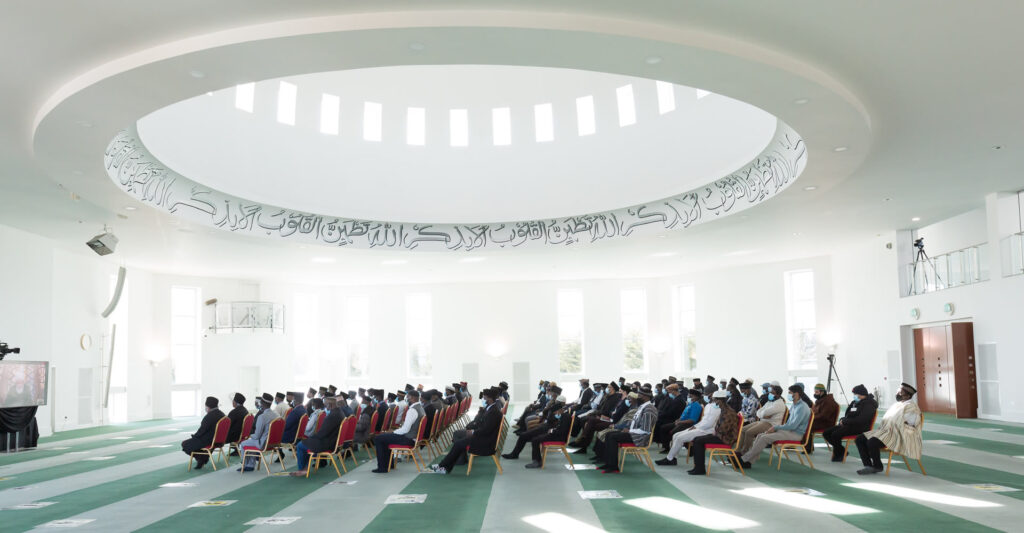 PAAMA has as its Mission Statement:
To unite, inspire and empower the African Ahmadiyya Muslim Diaspora to serve Islam, society and Africa.
To the members of the global PAAMA family, this Mission Statement is no hollow strapline or credo of convenience. On the contrary, it is the guiding principle that instigates social, moral and spiritual edification, which induces a measure of character into each and every one of us. This instils in us, as enjoined by our faith, love for and loyalty to our respective countries and nations, and inspires us to serve our beloved continent of Africa and all peoples of African provenance.
By the grace of Allah, the PAAMA marquee we are inaugurating this year is a direct result of Huzoor'saa directive for there to be a dedicated PAAMA marquee. As such, our hearts are overflowing with the deepest gratitude to our Beloved Spiritual Preceptor under whose celestial wing this humble PAAMA caravan continues its blessed and elevated quest to unite all peoples of African origin under the standard of Islam Ahmadiyyat. Our humble and earnest prayer is that we are able to fulfil our responsibilities in such a way that our beloved Khalifa, and hence Allah the Almighty, remains ever pleased with us. Amin.
Source: Al Hakam